Disney and Sega's movie-spoof of 1961 Disney film, "101 Dalmatians".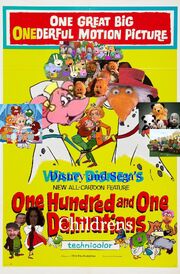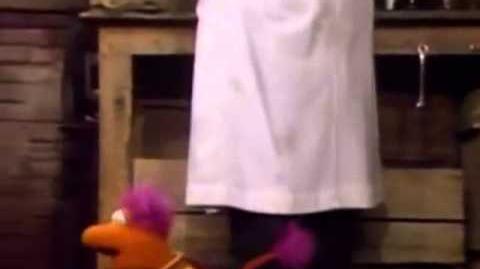 Pongo - Orinoco (The Wombles)
Perdita - Nellie the Elephant
Cruella De Vil - Lois Einhorn/Ray Finkle (Ace Ventura: Pet Detective)
Jasper - Angry Video Game Nerd
Horace - Nostaglic Critic
Roger - William (Titanic: The Legend Goes On)
Anita - Angelica (Titanic: The Legend Goes On)
Nanny - Impa (The Legend of Zelda)
Patch - Bungo (The Wombles)
Thunderbolt - Classified (Penguins of Madagascar)
Sargent Tibbs - Gobo Fraggle (Fraggle Rock)
The Colonel - Burble Bear (Danger Rangers)
The Captain - Spy Fox (Humongous)
Danny - Genie (Aladdin)
Scottie - Mushu (Mulan)
Lucy - Mollybolt (Doozers)
Towser - Towser
Collie - Link Hogthrob (The Muppets)
Labrador - Dudley Puppy (T.U.F.F. Puppy)
Queenie - Gadget Hackwrench (Chip 'n' Dale Rescue Rangers)
Duchess - Tammy (Chip 'n' Dale Rescue Rangers)
Princess - Foxglove (Chip 'n' Dale Rescue Rangers)
Lucky - Sooty
Penny - Soo (Sooty)
Rolly - Sweep (Sooty)
Dirty Dawson - Dave (Penguins of Madagascar)
T.V. Announcer - Gru (Despicable Me)
Ad blocker interference detected!
Wikia is a free-to-use site that makes money from advertising. We have a modified experience for viewers using ad blockers

Wikia is not accessible if you've made further modifications. Remove the custom ad blocker rule(s) and the page will load as expected.