Disney and Sega's movie spoof and animal style of 1989's Don Bluth film, "All Dogs Go to Heaven".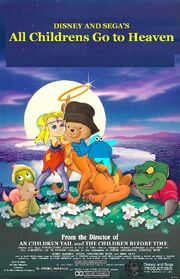 Charlie B. Barkin - Paddington Bear
Itchy Itchford - Berk (The Trap Door)
Anne-Marie - Zelda (The Legend of Zelda)
Carface - Baron Greenback (Danger Mouse)
Killer - Stiletto (Danger Mouse)
Annabelle - Miss Lilly (Angelina Ballerina)
Smiley - Slinky Dog (Toy Story series)
Vera - Foxglove (Chip 'n' Dale Rescue Rangers)
Gambling Doberman - Bump the Elephant
Two Dogs with the Gambling Doberman - Chip and Dale (Chip 'n' Dale Rescue Rangers)
Harold and Kate - William and Angelica (Titanic: The Legend Goes On)
Grand Chawhee - Danger Mouse
Stella Dallas - Kitty Katswell (T.U.F.F. Puppy)
Sir Reginald - Penfold (Danger Mouse)
Flo - Jenny McBride (The Secret of Nimh 2: Timmy to the Rescue)
Flo's Puppies - Li'l Bee, Gnatty, Baby Bug (Thumbelina), Larry the Lamb (Stories from Toytown: Featuring Larry the Lamb), Spike (My Little Pony G1), Sniffles the Mouse (Looney Tunes), Angelina Mouseling (Angelina Ballerina), Bo Peep's Sheep (Toy Story), etc
Hellhound - Perfect Chaos (Sonic Adventure)
King Gator - Hector the Dog (Hector's House)
Ad blocker interference detected!
Wikia is a free-to-use site that makes money from advertising. We have a modified experience for viewers using ad blockers

Wikia is not accessible if you've made further modifications. Remove the custom ad blocker rule(s) and the page will load as expected.