Disney and Sega's movie-spoof of 2006 Disney/Pixar film, "Cars".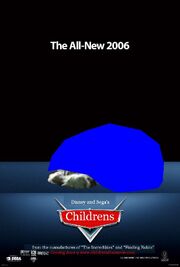 Lightning McQueen - Orinoco (The Wombles)
Sally Careera - Nellie the Elephant
Mater - Berk (The Trap Door)
Sheriff - Genie (Aladdin)
Doc Hudson - Goofy (Disney)
Luigi and Guido - Robot and Monster
Red - Donkey (Shrek)
Sarge - Rabbit (Skunk Fu!)
Fillmore - Po (Kung Fu Panda)
Ramone - Bambi
Flo - Melody (The Little Mermaid 2: Return to the Sea)
Lizzie - Gadget Hackwrench (Chip 'n Dale Rescue Rangers)
Strip Weathers/The King/Mr. The King - Dudley Puppy (T.U.F.F. Puppy)
Lynda Weathers/The Queen/Mrs. The Queen - Kitty Katswell (T.U.F.F. Puppy)
Mack - P.T. Flea (A Bug's Life)
Rusty and Dusty - Danny and Pudge (Cats Don't Dance)
Tex Dinoco - Wollie Mammoth (Cats Don't Dance)
Van and Minny - Baloo and Rebecca Cunningham (The Jungle Book and TaleSpin)
Chick Hicks - Oil Can Harry (Mighty Mouse)
Mia and Tia - Miss Piggy (The Muppets) and Mummy Pig (Peppa Pig)
Antenna Ball Seller Car - Roobarb (Roobarb & Custard)
Jerry Recycled Batteries - Dr. Von Goosewing (Count Duckula)
Fred - Little John (Robin Hood)
Stanley - Neo (Super Magnetic Neo)
Ad blocker interference detected!
Wikia is a free-to-use site that makes money from advertising. We have a modified experience for viewers using ad blockers

Wikia is not accessible if you've made further modifications. Remove the custom ad blocker rule(s) and the page will load as expected.