Disney and Sega's movie-spoof of 2008 DreamWorks Animation film, "Kung Fu Panda".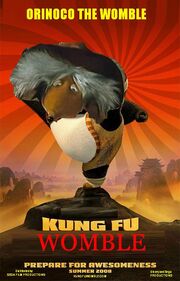 Po - Orinoco (The Wombles)
Master Shifu - Bonkers D. Bobcat (Disney's Bonkers)
Tigress - Jeopardy Mouse (Danger Mouse)
Master Monkey - The Great Gonzo (The Muppets)
Master Crane - Robert the Hedgehog (Meet the Feebles)
Master Viper - Coco Bandicoot (Crash Bandicoot)
Master Mantis - Arthur the Worm (Meet the Feebles)
Mr. Ping - Pingu
Zeng - Harry the Hare (Meet the Feebles)
Tai Lung - Dave (Penguins of Madagascar)
Master Oogway - Sidney the Elephant (Meet the Feebles)
Commander Vachir - Sam the Hyena
Sheep - Gadget Hackwrench (Chip 'n' Dale Rescue Rangers)
Crocodile Bandits as themselves
Great Master Viper, Viper's Father - Robin Hood
Viper's Mother - Maid Marian (Robin Hood)
Viper (Young) - Zooey the Fox (Sonic Boom)
Poison Proof Armored Gorilla Bandit - D'Compose (Inhumanoids)
Mei Ling - Miss Prissy (Looney Tunes)
Kung Fu School Instructor - Link Hogthrob (The Muppets)
Bunny Students - Li'l Bee, Gnatty, Baby Bug and Jitterbugs (Thumbelina)
Master Storming Ox - Goofy (Disney)
Master Croc - Wynyard (Meet the Feebles)
Master Thundering Rhino - Katnip (Herman and Katnip)
Gorilla Guard 1 - Buzzy the Crow (Noveltoons)
Gorilla Guard 2 - Herman the Mouse (Herman and Katnip)
Po's Dad - Tobermory (The Wombles)
Po's Mom - Madame Cholet (The Wombles)
Ad blocker interference detected!
Wikia is a free-to-use site that makes money from advertising. We have a modified experience for viewers using ad blockers

Wikia is not accessible if you've made further modifications. Remove the custom ad blocker rule(s) and the page will load as expected.