Disney and Sega' Movies Spoof of 2001 film "Osmosis Jones".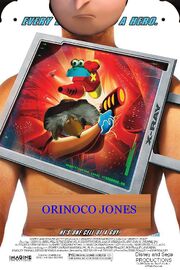 Osmosis Jones - Orinoco (The Womble)
Leah Estrogen - Nellie the Elephant
Drix - Berk (The Trap Door)
The Police Chief - Colonel K (Danger Mouse)
Mayor Phlegmming - Paddington Bear
Tom Colonic - Admiral DeGill (Atomic Betty)
Thrax - Baron Greenback (Danger Mouse)
Bruiser - Constantine (Muppets Most Wanted)
Spider Legs - Haybot (Conker's Bad Fur Day)
The Crime Boss - Maximus I.Q. (Atomic Betty)
The Flu Germ - Mushu (Mulan)
Frank Detorre - Gru (Despicable Me)
Shane Detorre - Sarah (Ed Edd 'n' Eddy)
Mrs. Boyd - Thumbelina
Bob - Flint Lockwood (Cloudy with a Chance of Meatballs)
Ad blocker interference detected!
Wikia is a free-to-use site that makes money from advertising. We have a modified experience for viewers using ad blockers

Wikia is not accessible if you've made further modifications. Remove the custom ad blocker rule(s) and the page will load as expected.