Disney and Sega's movie-spoof and animal style of 2004's Disney/Pixar film, "The Incredibles".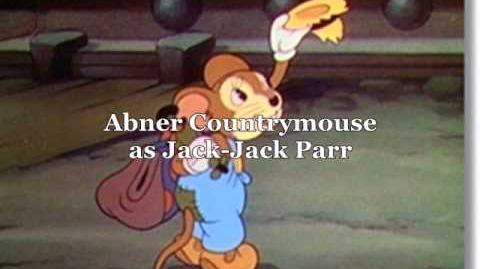 Bob Parr - Mighty Mouse
Helen Parr - Pearl Pureheart (Mighty Mouse)
Violet Parr - Jenny McBride (The Secret of Nimh 2: Timmy to the Rescue)
Dash Parr - Scrappy Mouse (Mighty Mouse)
Jack-Jack Parr - Abner Countrymouse (The Country Cousin)
Syndrome - Baron Greenback (Danger Mouse)
Edna Mode - Foxglove (Chip 'n Dale Rescue Rangers)
Frozone (Lucius Best) - Orinoco (The Wombles)
Mirage - Catrina (My Little Pony: Escape from Catrina)
Gilbert Huph - Swifty (Mighty Mouse)
Tony Ryinder - Timothy Brisby (The Secret of Nimh 2: Timmy to the Rescue)
Young Syndrome - Robin the Frog (The Muppets)
Bomb Voyage - Shere Khan (The Jungle Book)
Rick Dicker - The Great Gonzo (The Muppets)
Little Boy on Bicycle - Larry the Lamb (Stories from Toytown: Featuring Larry the Lamb)
Kari (Jack-Jack's Baby Sitter) - Aunt Lucy (Paddington Bear)
Underminer - Caractacus P. Doom (Avenger Penguins)
Frank and Ollie - Chip and Dale (Chip 'n Dale Rescue Rangers)
Honey (Lucius' Wife) - Nellie the Elephant
Ad blocker interference detected!
Wikia is a free-to-use site that makes money from advertising. We have a modified experience for viewers using ad blockers

Wikia is not accessible if you've made further modifications. Remove the custom ad blocker rule(s) and the page will load as expected.