Disney and Sega's movie-spoof of 2009 Disney film, "The Princess and the Frog".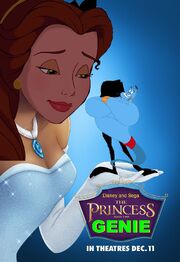 Tiana (Young) - Mandy (Chip 'n Dale Rescue Rangers)
Human Tiana - Belle (Beauty and the Beast)
Frog Tiana - Eden (Aladdin TV Series)
Human Naveen - Prince Adam (Beauty and the Beast)
Frog Naveen - Genie (Aladdin)
Charlotte La Bouf (Young) - Lucy (64 Zoo Lane)
Charlotte La Bouf (Adult) - Zelda (The Legend of Zelda)
Louis the Alligator - Thomas O'Malley (The Aristocats)
Ray - Goofy (Disney)
Dr. Facilier - Danny (Tourettes Guy)
Lawrence - Mushu (Mulan)
Mama Odie - Ariel (The Little Mermaid)
Juju - Timon (The Lion King)
Big Daddy Eli La Bouf - King Harkinian (The Legend of Zelda)
Eudora - Angelica (Titanic: The Legend Goes On)
James - William (Titanic: The Legend Goes On)
Naveen's Father - King Harold (Shrek 2)
Naveen's Mother - Queen Lillian (Shrek 2)
Dr. Facilier's "Friends" - Penguin's March (Farce of the Penguins)
Marlon the Alligator - Tom (Tom and Jerry)
Ian the Alligator - Sylvester (Looney Tunes)
Frog Hunters - Magneto (X-Men), Angry Video Game Nerd and Nostaglic Critic
Naveen's Little Brother - Artie (Shrek the Third)
Tiana's Friends - Lizabeth (Captain Flamingo) and Sam (Totally Spies!)
Two Secretaries - Sparky and Robot X-5 (Atomic Betty)
Stella the Dog - Cindy Bear
Trailer/Transcript:
Edit
Ad blocker interference detected!
Wikia is a free-to-use site that makes money from advertising. We have a modified experience for viewers using ad blockers

Wikia is not accessible if you've made further modifications. Remove the custom ad blocker rule(s) and the page will load as expected.